Posts Tagged 'MAC address'
Today, I am sharing the some tiny but important applications from my networking Apps folder. These are very handy tools for a Network Administrator.  I hope you will enjoy this article and found informative.  Although, some of products are licensed:(, but we have to respectful to anti-piracy laws.  You can find trial versions or torrents of these licensed products for testing and education purposes. Here is short reviews and features imitates from their websites.
SoftPerfect Network Scanner
SoftPerfect Network Scanner is a free multi-threaded IP, NetBIOS and SNMP scanner with a modern interface and many advanced features. It is intended for both system administrators and general users interested in computer security. The program pings computers, scans for listening TCP/UDP ports and displays which types of resources are shared on the network (including system and hidden).
In addition, it allows you to mount shared folders as network drives, browse them using Windows Explorer, filter the results list and more. SoftPerfect Network Scanner can also check for a user-defined port and report back if one is open. It can also resolve host names and auto-detect your local and external IP range. It supports remote shutdown and Wake-On-LAN.
Key Features
Pings computers and displays those alive.
Detects hardware MAC-addresses, even across routers.
Detects hidden shared folders and writable ones.
Detects your internal and external IP addresses.
Scans for listening TCP ports, some UDP and SNMP services.
Retrieves currently logged-on users, configured user accounts, uptime, etc.
You can mount and explore network resources.
Can launch external third party applications.
Exports results to HTML, XML, CSV and TXT
Supports Wake-On-LAN, remote shutdown and sending network messages.
Retrieves potentially any information via WMI.
Retrieves information from remote registry, file system and service manager.
It is absolutely free, requires no installation, and does not contain any adware/spyware/malware.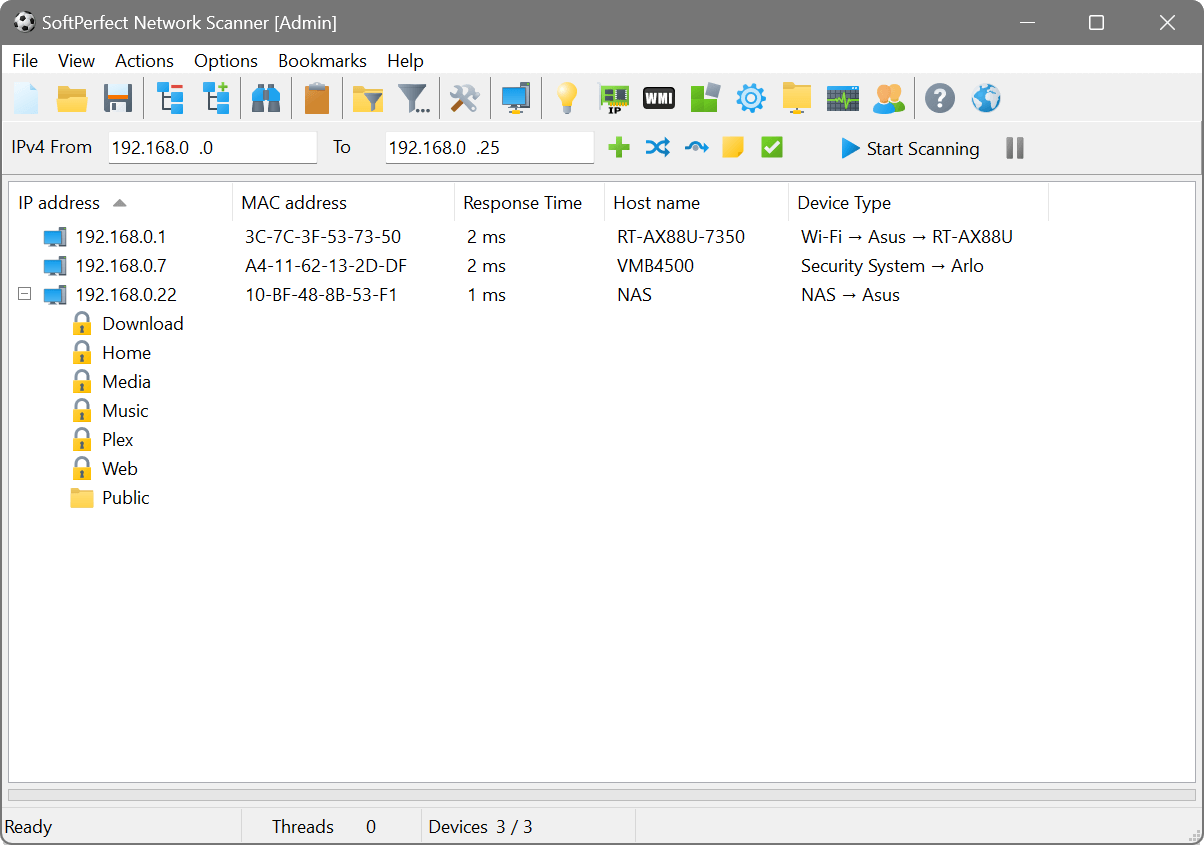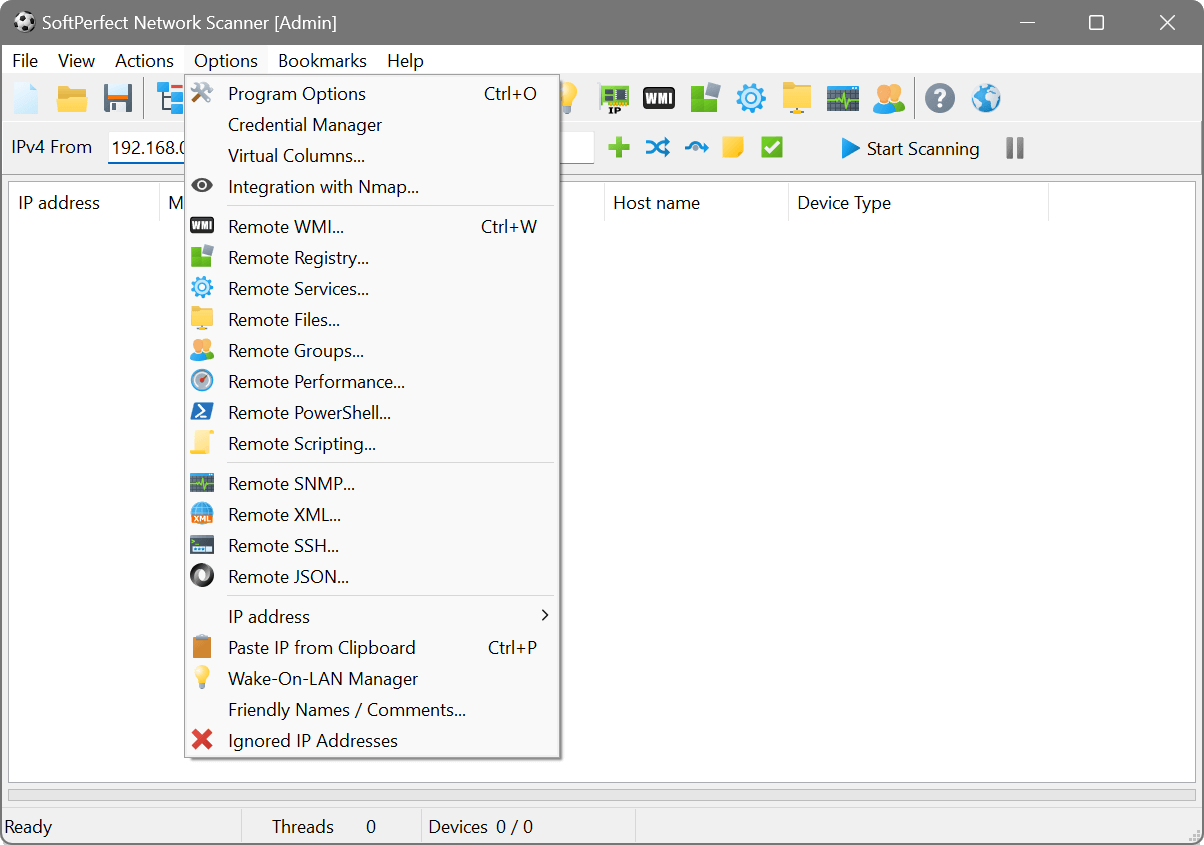 PuTTY
PuTTY is an SSH and telnet client, developed originally by Simon Tatham for the Windows platform. PuTTY is open source software that is available with source code and is developed and supported by a group of volunteers.
You can download PuTTY here.
GFI LAN Guard Network Security Scanner
 GFI LanGuard Network Security Scanner is a network security and vulnerability scanner used by small and medium-sized businesses (SMBs) all over the world. GFI LanGuard provides a complete network security overview with minimal administrative effort, while also providing remedial action through its patch management features. Easy to set up and use, GFI LanGuard acts as a virtual consultant to give you a complete picture of your network set-up, provide risk analysis and help you to maintain a secure and compliant network state faster and more effectively. GFI LanGuard assists you in patch management, vulnerability assessment, network and software auditing, asset inventory, change management, risk analysis and compliance.
 Its complete features you can found here on product's web site, being license and paid software you can find its pricing here.  If you want to test it, you can find its trial version here.
Net Monitor for Employees Monitoring
Net Monitor for Employees Professional allows you to see screens of  computers connected to the network. This way you can observe what your employees are doing.  Additionally, you have the ability to take control of a remote computer by controlling the mouse and keyboard. You can record remote computers screens even when you are not monitoring them. When your employees need instructions, you can show them your desktop. To increase your efficiency the console now include several tools that can be executed on all or just selected remote computers. When you need attention you can send a message to employees and/or lock the remote computer.
Features:
Displaying a live picture of a remote computer.

You can take 

control of a remote computer by controlling its mouse and keyboard.
More remote screens can be displayed in a table.

Computers can be organized in computer groups (e.g. classrooms)

A remote screen can be zoomed to an actual size.
The name of the connected user is displayed.

Record remote computers screens to AVI files.

Show your desktop to students

Power off, restart, hibernate, suspend remote computers

Log off desktop users

Lock workstation

Control screensaver

Block internet

Multi-monitor support

Control over running processes

You can lock selected remote computers
You can display a message on selected remote computers.
When lower bandwidth is required, the refresh interval can be enlarged.
Automatic connection to a remote computer is optional.
Settings for the agent are encrypted and password protected.
Connection to a remote computer is password protected.
Access to monitoring the console is password protected. If more users use the same computer, different profiles and access passwords can be set.
More monitoring consoles can be connected to the same remote computer – you can monitor your students from different locations.
Application can optionally use encrypted communication.

Agent can be remotely installed.

Fast users switching is supported.

Monitor and control thin clients (TS, RDP).
It is also licensed application but you can try it before buy. Product's Website
PassMark WirelessMon
 WirelessMon is a software tool that allows users to monitor the status of wireless WiFi adapter(s) and gather information about nearby wireless access points and hot spots in real time. WirelessMon can log the information it collects into a file, while also providing comprehensive graphing of signal level and real time IP and 802.11 WiFi statistics.
Features:
Verify 802.11 network configuration is correct.
Test WiFi hardware and device drivers are functioning correctly.
Check signal levels from your local WiFi network and nearby networks.
Help locate sources of interference to your network.
WirelessMon supports the MetaGeek Wi-Spy (2.4i, 2.4x and DBx) useful for finding interference from non 802.11A/B/G/N devices transmitting on the same frequencies
Scan for hot spots in your local area (wardriving)
Create signal strength maps of an area (also known as heat maps)
GPS support for logging and mapping signal strength
Mapping can be performed with or without a GPS unit
Correctly locate your wireless antenna (especially important for directional antennas).
Verify the security settings for local access points.
Measure network speed & throughput and view available data rates.
Help check Wifi network coverage and range
A feature-rich, value-for-money alternative to NetStumbler.
Its pricing are as follows:
Professional Edition: US$49.00
Standard Edition: US$24.00
You can try it for 30 days Download
Categories:
Networking Apps
download netscan, download putty, GFI LanGuard, gfi languard scanner, IP address, Local area network, MAC address, net monitor professional for employees, NetBIOS, netscan, netscanner, Network Administrator, network lookout monitor, passmark wireless mon, putty, putty telnet client, security scanner, softperfect network scanner, Windows Explorer, Windows Registry, wireless network monitor, wirelessmon
Wireless Network Watcher is a small utility that scans your wireless network and displays the list of all computers and devices that are currently connected to your network.  For every computer or device that is connected to your network, the following information is displayed: IP address, MAC address, the company that manufactured the network card, and optionally the computer name.  You can also export the connected devices list into html/xml/csv/text file, or copy the list to the clipboard and then paste into Excel or other spreadsheet application.
System Requirements And Limitations
This utility works on Windows 2000, Windows XP, Windows Server 2003/2008, Windows Vista, and Windows 7.
This utility can only scan a wireless network that you're currently connected to. It cannot scan other wireless networks.
In rare cases, it's possible that Wireless Network Watcher won't detect the correct wireless network adapter, and then you should go to 'Advanced Options' window (F9), and manually choose the correct network adapter.
Although this utility is officially designed for wireless networks, you can also use it to scan a small wired network
Using Wireless Network Watcher
Wireless Network Watcher doesn't require any installation process or additional dll files. In order to start using it, simply extract the executable file (WNetWatcher.exe) from the zip file, and run it.
If you want, you can also download WNetWatcher with full install/uninstall support (wnetwatcher_setup.exe), so a shortcut for running WNetWatcher will be automatically added into your start menu.
After running WNetWatcher, it automatically locates your wireless adapter, and scans your network. After a few seconds, you should start see the list of computers that are currently connected to your network.
If from some reason, WNetWatcher failed to locate and scan your network, you can try to manually choosing the correct network adapter, by pressing F9 (Advanced Options) and choosing the right network adapter.
Translating Wireless Network Watcher to other languages
In order to translate Wireless Network Watcher to other language, follow the instructions below:
Run Wireless Network Watcher with /savelangfile parameter:
WNetWatcher.exe /savelangfile
(A file named WNetWatcher_lng.ini will be created in the folder of WNetWatcher utility)
Open the created language file in Notepad or in any other text editor.
Translate all string entries to the desired language. Optionally, you can also add your name and/or a link to your Web site. (TranslatorName and TranslatorURL values) If you add this information, it'll be used in the 'About' window.
After you finish the translation, Run WNetWatcher, and all translated strings will be loaded from the language file.
If you want to run WNetWatcher without the translation, simply rename the language file, or move it to another folder.

Download